Reading time:
3
minutes
Interview by Utsav Rakshit | Edited by Amelia Chew
Organised by Malaysian legal tech startup CanLaw, LexTech Conference 2018 is an APAC-wide regional legal technology conference taking place from 25 to 26 October 2018 in Kuala Lumpur. LexTech Conference 2018 aims to drive legal tech adoption in the region and strengthen the regional legal tech community. In the lead-up to LexTech Conference 2018, the LawTech.Asia team will be bringing to you regular interviews and shout-outs covering prominent individuals who are involved in the conference.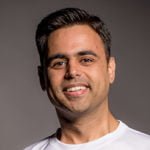 LawTech.Asia spoke with Dipesh Sukhani, Advisor to ServisHero and Co-Founder and Chief Business Officer of Indorse, about smart contracts. Dipesh will be speaking on a panel titled "Macro Trends and Practical Applications of Smart Contracts in Online Dispute Resolution (ODR)".
What is stopping us from adopting smart contracts extensively?
There are two key factors hindering the adoption of Smart Contracts in our day-to-day life: (1) The scope of Smart Contracts; and (2) awareness. Let me dive into each of them.