Reading time:
3
minutes
Interview by Utsav Rakshit | Edited by Amelia Chew
Organised by Malaysian legal tech startup CanLaw, LexTech Conference 2018 is an APAC-wide regional legal technology conference taking place from 25 to 26 October 2018 in Kuala Lumpur. LexTech Conference 2018 aims to drive legal tech adoption in the region and strengthen the regional legal tech community. In the lead-up to LexTech Conference 2018, the LawTech.Asia team will be bringing to you regular interviews and shout-outs covering prominent individuals who are involved in the conference.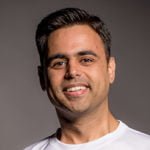 LawTech.Asia spoke with Dipesh Sukhani, Advisor to ServisHero and Co-Founder and Chief Business Officer of Indorse, about smart contracts. Dipesh will be speaking on a panel titled "Macro Trends and Practical Applications of Smart Contracts in Online Dispute Resolution (ODR)".
What is stopping us from adopting smart contracts extensively?
There are two key factors hindering the adoption of Smart Contracts in our day-to-day life: (1) The scope of Smart Contracts; and (2) awareness. Let me dive into each of them.

1. The scope of Smart Contracts, i.e., what can a Smart Contract do!
Loosely put, Smart Contracts are a set of instructions provided to a processor (in the case of Ethereum as the platform, the Ethereum blockchain) that get executed automatically upon meeting certain conditions.  A simple example (which is close to us in our daily life) can be that of the alarm function in our smartphones – a particular ringtone starts playing (technically put: gets executed) when the time as per the smartphone is equal to the time set by the user.

In contrast, Contracts (and I will not dive into the definition of legally acceptable contracts) range from simple to highly comprehensive.  A rental contract could possibly be converted into a Smart Contract. However, can a merger and acquisition contract, which has multiple caveats/conditions/guarantees/warranties be converted to a Smart Contract? That, in my opinion, is difficult.
2. Awareness

Another obstacle in achieving wider adoption is a lack of education. Businesses which do not deal with deep technological applications (e.g. Ethereum) do not understand the underlying mechanism behind smart contracts and what it offers in terms of trust, speed, and cost savings.
I will not blame them entirely.  Businessmen function mostly with the objective of making higher profits, with the secondary objective of achieving cost savings].  Taking time out to understand Smart Contracts, its adoption, and its benefits is a cost to them – and businesses are not known to spend time cost on R&D so easily.

Awareness about this subject will invariably take time, but only as more and more businesses prove the benefits of smart contracts and make use of them (which to begin with will be the large MNCs that can afford the R&D cost).
Will smart contracts face difficulties in real life applications?
Smart Contracts are coded on the same set of principles that paper contracts are drafted.  The key differences are that (a) they are written in a language that is not common-reader friendly, (b) the execution of these are in a particular environment. These differences are something that we will resolve – it is only a matter of time. When I say "we", I mean, us as a society.
Why will we do that?  Efficiency.  Smart Contracts can make execution of general contracts faster.  Hence, we will make efforts to make the adoption of Smart Contracts simpler and thus easier in real life applications.
By when?  I wish I could foretell!
How do you see Smart Contracts transforming legal practice?
I see a tremendous opportunity for legal practice. Smart Contracts open new ways in which simple contracts between parties will be documented and executed.  As mentioned above, Smart Contracts today can only be written and executed in blockchain-friendly coding language. Lawyers will play a crucial role in translating normally executed contracts into Smart Contracts and vice versa.  Given that the execution of Smart Contracts can be instant, special attention will be paid to how the contracts are drafted (or may I say "coded").
*Disclaimer: Please note that the views expressed above are personal and DO NOT represent the views/opinion of any organization that the interviewee is associated with.

---
LawTech.Asia readers are entitled to an exclusive promo code that provides a 10% discount off a ticket for LexTech Conference 2018. Subscribe to the LawTech.Asia mailing list to receive your promo code today.