Reading time:
2
minutes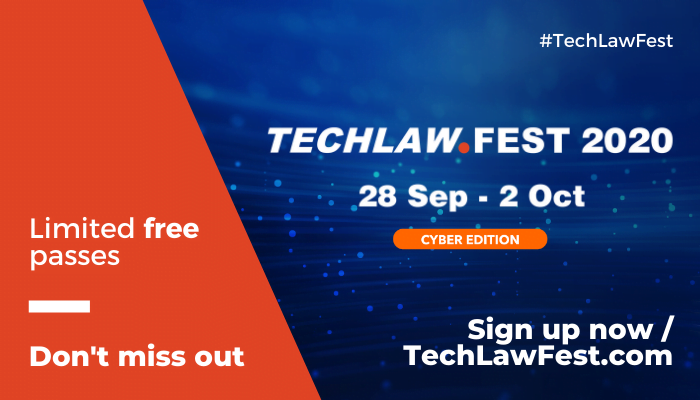 We are proud to be recognised by the Singapore Academy of Law as an official media partner for TechLaw.Fest 2020!
TechLaw.Fest 2020 (held from 28 September to 2 October 2020) is a signature convention in Singapore that will be the focal point for leading thinkers, leaders and pioneers in law and technology.
How will one hold a convention in the context of 2020, you may ask? As it has been a year like no other, TechLaw.Fest is similarly breaking the mould – by holding virtually (forgive the pun) the largest TechLaw.Fest ever.
Is it just another webinar or panel (or series of these)? From the get go, there has been an awareness that in these uncertain and difficult times, time is one's most precious resource of all. For that reason, as far as LawTech.Asia can see, TechLaw.Fest 2020 has been meticulously engineered to maximise its RoVE (Rate of Value Extracted). More than just a series of webinars and panels, TechLaw.Fest will bring together the global legal community on issues that matter now, and those that will be hard to ignore in the coming years.
If that were not enough, other key highlights of TechLaw.Fest 2020 include:
An action-packed full five days of events that will cater to audiences all around the world – with each day hinged on a unique theme: Legal Operations (28 September), Technology Law (29 September), Future Law (30 September), Access to Justice (1 October), and Legal Innovation (2 October).
20 hours of content from 20 countries across 5 days. These comprise virtual live webcast tracks; on-demand recorded content; a by-invite virtual knowledge cafe; online networking and engagement; and even a virtual exhibitions space – enabling global conversations, border-less business opportunities and fruitful engagements in an all in one online space.
Numerous prominent speakers, including Ms Mary Shen O'Carroll (Director of Legal Operations, Google and President of the Corporate Legal Operations Consortium), Prof Simon Chesterman (Dean, National University of Singapore Faculty of Law), Prof Ian Walden (Professor of Information and Communications Law, Queen Mary University of London), Mr Mark Cohen (CEO and Founder, Legal Mosaic), Mr Lam Chee Kin (Managing Director, DBS Bank Ltd) and many more!
From now to September, LawTech.Asia will be bringing you regular interviews and shout-outs covering prominent speakers and the topics they will be speaking at TechLaw.Fest. These speakers include key leaders from:
Google
Legal Mosaic
Queen Mary University of London
and more!
We're raring to have you join us in exploring the constantly-moving intersection of law and technology. Remember to check back on our site regularly to ensure that you get the latest coverage, updates and news about TechLaw.Fest 2020! Also, remember to sign up today – tickets to TechLaw.Fest 2020 are free, but limited in number only!
As the organisers put it: don't just imagine the future – live it!
The LawTech.Asia Team