Reading time:
7
minutes
Written by Cai Xiaohan | Edited by Josh Lee

From 16-17 November 2018, LawTech.Asia co-organised the Legal Hackers APAC Summit together with SG Legal Hackers and the Singapore Academy of Law. This saw over twenty Legal Hackers chapter organizers from at least ten different countries in the Asia-Pacific region converge in Singapore to discuss the latest developments in law, technology and innovation in the APAC region.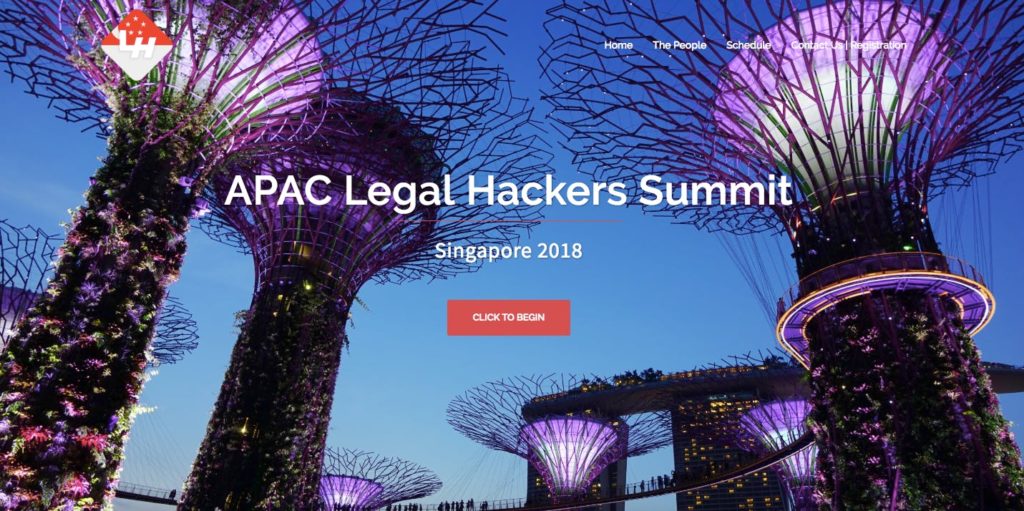 About Legal Hackers
Legal Hackers is a global grassroots community seeking to foster creative problem-solving at the intersection of law and tech. It began in 2012 in Brooklyn, New York. Since then, it has grown to over 120 chapters (and counting!) in 6 continents, with thousands of members and hundreds of chapter organizers. During the APAC Summit, Chapters represented were: Bali, Jakarta, Hong Kong, Melbourne, Perth, Sydney, Wellington, Seoul, Tokyo, Kuala Lumpur, Manila, and Singapore.

Legal Hackers is an "open culture" movement, guided by the Hacker Ethic of accessibility, openness, sharing and play. It is local-first, chapter-based, and volunteer-led. Legal Hackers is an open community that includes anyone interested in the intersection of law and technology. Some recent events organized by Legal Hackers include the Computational Law and Blockchain Fest (which occurred here in Singapore, too!).

State of legal technology in the Asia Pacific
The Summit kicked off at Singapore Management University (SMU). Each Legal Hackers Chapter shared about the state of legal innovation in their Chapter and country, as well as their challenges, opportunities and plans for the future.

Different Chapters were at different stages of experience. In Indonesia, Evandri Pantouw shared about the recent initiation of Legal Hackers Jakarta, some early-stage challenges faced in reaching out to the government, and working around the under-developed infrastructure in the sector. Similarly, Jeifan-Ira Dizon from Manila shared that she was still in the process of organising a Legal Hackers Chapter there, and is looking to improve regulatory technology and court processes, among other things. In Japan, Maurice Rabb from the Tokyo Chapter shared how, since the Chapter started in April 2018, it had seen commendable growth, from just 8 members to 50 in November 2018. Whilst Japan is still operating on very much a paper-based practice and court process, it now has about 15 legal tech companies.

There were also Chapters that were more "mature" and in a different stage of growth. This often strongly correlated with the general state of legal innovation in their home country. For example, in Australia, Legal Hackers Sydney (Graeme Grovum) and Melbourne (Eric Chin) shared about how their legal technology markets had become almost saturated, led by companies specialising in document automation, legal operations, and legal marketplaces. Some law societies in Australia have a legal tech committee, while more than half of the Australian law schools offer a "legal innovation" course. Similarly, Legal Hackers Hong Kong (Brian Tang) shared how legal tech in Hong Kong followed a similar trajectory. There are well-established legal tech companies in the market, such as Lexis, Zegal, and Axiom. Its arbitration centre is working towards online dispute resolution, while the law society and universities regularly organise legal tech events and initiatives.

Last but not least, Legal Hackers Singapore (Ji En) also shared about its progress. As a grassroots movement, Legal Hackers Singapore has been organising ground-up events such as coding workshops for lawyers and the recent Singapore node of the Computational Law and Blockchain Festival.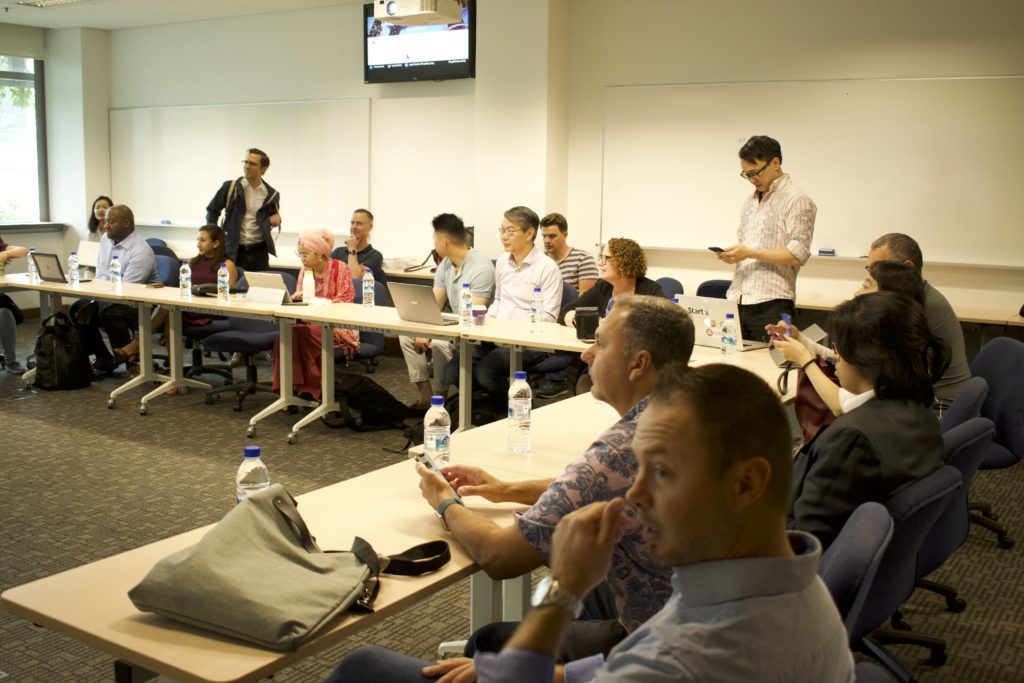 Discussions at the forefront of legal technology
Day Two, the segment of the Summit that was open to the public, opened with "Lightning Talks" – quick sharing sessions on various cutting-edge areas of legal tech.

Attendees at the Lightning Talks were treated to an invigorating discussion on blockchain technologies and their impact on the legal industry. Tony Lai (Legal Hackers Hong Kong) spoke on the central concepts behind blockchain technology and the future possibilities or use-cases for blockchain. Narae Lee (Legal Hackers Seoul) spoke on the regulatory uncertainties for blockchain, with a particular focus on South Korea; for instance, the government of Korea has banned ICOs without justification, and there is room for growth in how the government and other stakeholders can work on regulating blockchain and cryptocurrency.

This was followed by a talk by Jameson Dempsey (Legal Hackers co-founder) with an introduction to the Legal Hackers Our Wellington chapter organizers, Rochelle Furneaux and Robert O'Brien, also spoke on the concept of "law as code". Rochelle shared how uncertainty in legislation can be a "feature" rather than a "bug" in our legal system, while Robert shared how legislation could be formulated as code. Indeed, New Zealand is one of the first (if not the first) jurisdiction that has begun to explore machine-readable laws to transform government, and a number of open-source platforms have sprung up in this regard, such as Openfisca Aoteroa and the Better Rules Discussion.

Singaporean representatives also spoke. Dharmendra Yadav from the Singapore Corporate Counsel Association shared in-house counsel in Singapore have been using legal tech to transform their work and operations. We also were privileged to have Ian Chai (Senior Assistant Director, Legal Technology and Innovation Office, Attorney-General's Chambers) speak to us about the Attorney-General's Chambers's (AGC) efforts towards incorporating tech into the AGC's many operations, such as creating software that can generate maps of how different pieces of legislation were related to each other.

The Lightning Talks culminated with a presentation by by Alexis Chun and Meng Wong of Legalese. Legalese is a Singapore-based start-up that aims to create a domain-specific language for law – a programming language specifically designed to capture legal "semantics, deontics and pragmatics". This would allow lawyers to apply the tools that computer scientists have at their disposal (think stacks, apps, self-updating packages) to law. Legalese also did a product demonstration of their beta product, and discussed some aspects of how it works, the challenges they faced and the road ahead.

Panel on Artificial Intelligence
The later half of Day 2 saw the APAC Law and Tech Roundtable, which featured a panel on Artificial Intelligence (AI) moderated by Jerrold Soh (Lecturer, SMU Law). On the panel were Professor Goh Yihan, Dean of SMU Law School, Yeong Zee Kin, Assistant Chief Executive (Data Innovation and Protection Group) of IMDA Singapore and Deputy Commissioner of the Personal Data Protection Commission (PDPC), Rajesh Sreenivasan, Partner and Head of the Technology Media and Telecoms Practice at Rajah & Tann Singapore LLP and the Director of Rajah & Tann Technologies Pte Ltd, as well as Brian Tang, Managing Director of the Asia Capital Markets Institute (ACMI) and the Founding Executive Director of the LITE Lab at Hong Kong University.
Professor Goh spoke about AI and Legal Education, particularly on how students in the AI era can prepare themselves better for the future. In a world where mere rote learning and memorization can be done in mere seconds by machines, what skills do we need to stay relevant? Prof Goh shared with the audience how SMU Law has been revising its curriculum to include modules related to technology, and also how SMU would soon be offering a "Computing and Law" programme launching in 2020 – a course specially designed for students interested in the intersection of law and technology.

Zee Kin spoke on "Responsible AI Development and Adoption in the Legal Sector", covering various legal issues surrounding the use and development of AI. Some of these issues included: opportunity areas for use of AI in the legal sector, and an overview of AI issues for different stakeholders in the industry (including the user company, the application developer, and the government).

Rajesh spoke on "AI and the Law – Data Localisation". He discussed how laws which impinge on the use or generation of data would have serious consequences for AI, which is heavily dependent on data. In particular, laws relating to data localisation requirements may carry the risk of hindering the development of nascent AI technologies, since it obstructs the use of data for AI.

Brian spoke on "Four Emerging Conceptual and Operational Ideas in AI Governance". These were: (1) human rights based; (2) ethics review boards; (3) professionalism; and (4) the precautionary principle. He shared on the various efforts that have been undertaken in each of these aspects – for example, there have been at least two AI ethics boards established since 2018.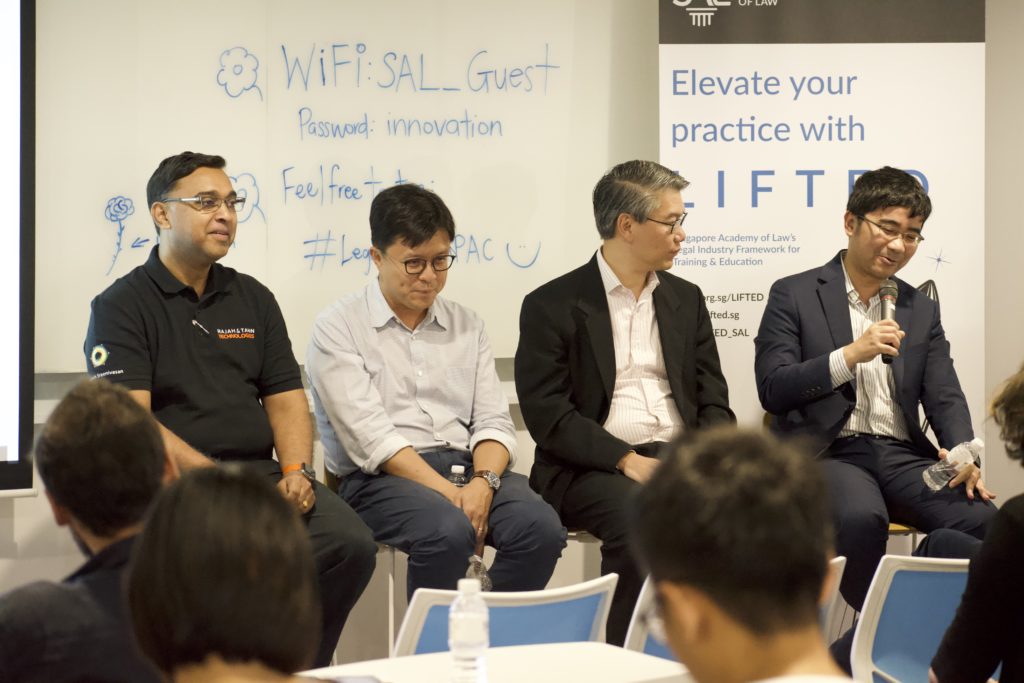 Conclusion
The APAC Legal Hackers Summit had one aim: to bring the leaders of legal technology around the APAC together and allow them to have thought-provoking and inspiring discussions about legal innovation. By the end of the Summit, it was clear that this target had been resoundingly achieved. Throughout the Summit, the Legal Hackers representatives from around the region enthusiastically shared ideas and bounced questions off each other. Members of the public at Day 2 of the Summit also made new connections with the Legal Hackers community. Discussion topics ranged from the possibilities of creating a "Hacker House" in Singapore to our ideal world for data regulation, and promises of future Legal Hacker meet-ups.
As co-organisers, we wish to extend our deepest thanks to our partners – the Singapore Academy of Law, FLIP, the Singapore Management University, the Attorney-General's Chambers, Intelllex, and Legal Hackers, just to name a few – whose partnership we value, and without whose help this successful Summit would not have been possible.
We eagerly await the next meeting of the APAC Legal Hackers!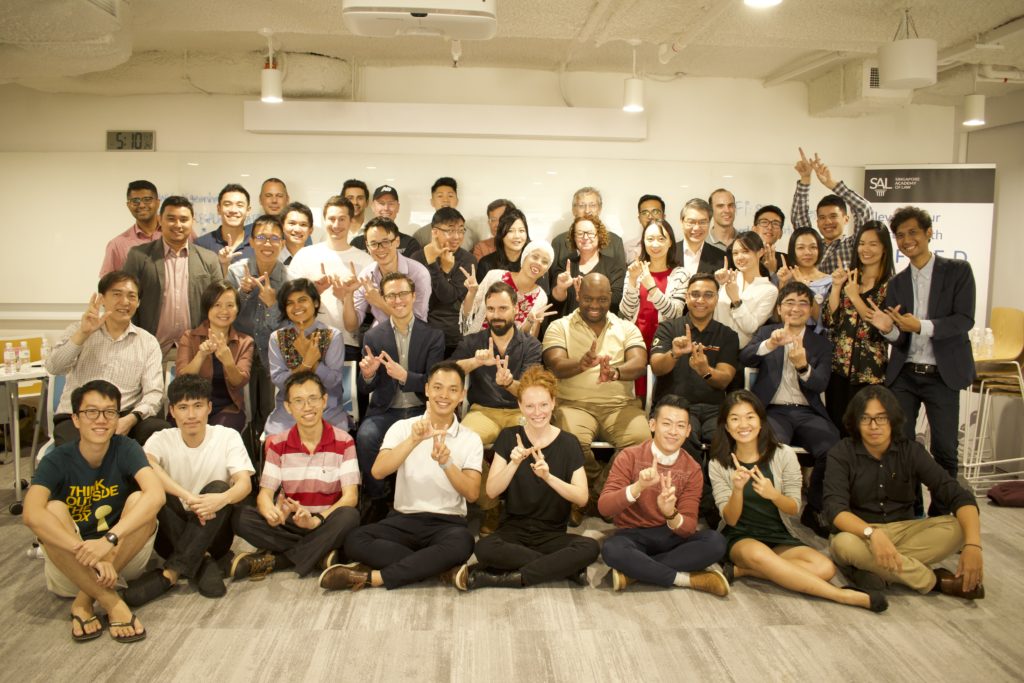 The photos from the Summit may be viewed here and the slides from the Summit are available here. If you would like to join Legal Hackers SG, say hello on our Facebook page!