Reading time:
8
minutes
Written by Josh Lee | Edited by Jennifer Lim, Andrew Wong
Introduction
The outbreak of the CoViD19 epidemic has had a chilling effect on many. The virus' continuous spread after the Lunar New Year holidays meant it continued to make its presence felt even as businesses re-opened for work.
Anticipating a worsening of the global health situation, businesses are beginning to prepare themselves for an extended period during which business operations could be impacted. "Business continuity" has become a widely-mentioned theme, with many organisations beginning to implement drawer plans to reduce physical interaction. These plans could include telecommuting and working through remote-workplace tools. For example, the Hong Kong government asked some of its staff to work from home to reduce human-to-human contact. MNCs like DBS, Rio Tinto and UOB have also activated work-from-home plans.
In the legal industry, while established and technology-focused law firms with the necessary infrastructure may be able to make the switch relatively seamlessly, other firms may find it more challenging to do so. This is in particular so for firms that have yet to see a disruption to business of the scale similar to that seen during the SARS or swine flu epidemics.
Notwithstanding the doom and gloom, it remains prudent to take a long view of the present situation, and to see the silver lining in the clouds. While it may appear at first blush to be troublesome to begin implementing business continuity plans, the present generation of telecommuting and remote-workplace tools are more than capable of sustaining businesses for extended periods of time. In fact, the present situation might prove to be just the encouragement for more firms to begin switching permanently to a nimbler, telecommuting-based structure, with communication driven primarily by remote-workplace tools. Indeed, this is the first (and critical) step to the implementation of "virtual law firms" – law firms that work nearly-entirely remotely without the need for a dedicated office space.
Focusing on remote-working, this article covers the following points:
The benefits of a remote workforce;
The telecommuting tools needed to enable and maintain a remote-working environment; and
Other considerations needed to ensure a successful transition into permanent telecommuting.
A remote workforce will be the modus operadi of the 21st century
Business-as-usual remote-working is likely to be one of the biggest trends of workforce dynamics in the 21st century. In short, remote-working will be – or already is – the new paradigm of work for many organisations.
A possible explanation for this is the flexibility provided by remote-working. Remote-working arrangements allow employees greater amounts of control over their work schedules, making it easier for employees to manage external responsibilities and better manage work-life integration. In turn, this flexibility provides at least two benefits that increase the appeal of remote-working arrangements. First, employees who are able to better deal with external responsibilities are likely to be more productive when working, more fulfilled, and (even possibly) less likely to turn to accept offers from other companies when approached. Second, this aligns well with the innate traits of the millennial generation increasingly permeating all levels of the workforce. Millennials have been shown to greatly appreciate flexibility, so as to be able to give due focus to their personal pursuits. Such alignment allows companies to better position themselves to attract and retain talent.
These trends are supported by several studies have shown tangible and concrete benefits to the workforce when working remotely. A Global Workplace Analytics survey has shown that 53 percent of remote-workers reported their willingness to work overtime, as compared to 28 percent for in-office workers. The same study showed that over 70% of workers would go out of their way – including taking a pay cut – to have a remote-work environment. Interestingly, studies have also shown that workers feel less stressed when they reduce the need to travel to work. In one study, Swedish researchers found that couples having at least one partner taking longer than 45 minutes to travel to work every day experienced 40% higher divorce rates than those with shorter commutes. This reduced stress is likely to improve their attitudes toward and productivity at work. Further, a 2018 Singapore Ministry of Manpower survey showed that having remote-work options improved the impact on staff retention. This is echoed by the Global Workplace Analytics survey, which stated that remote-working arrangements increased employee retention for 95% of companies.
Another explanation is the cross-border nature of modern business. An increasing need to work across borders also highlights the usefulness of remote-working, as it allows organisations to connect with overseas clients and/or counterparties, or even to connect with one's colleagues when working overseas.
With the above data and insights, coupled with greater organisational resilience when there are disruptions to business operations – there is good reason for law firms to fully make the change to a remote-working work environment.
In the 21st century, remote-working is the new paradigm of work.
The tools needed for a remote-working culture
A long-standing argument against remote-working has been that technology has yet to reach a stage that enables remote-working to be as efficient as working in the office. This, however, no longer holds true. Many barriers to remote-working have been overcome by technology – and as this section will show, employers are less likely to have issues sourcing the tools to support remote-working than sourcing the most suitable tool for their business operations.
The table below sets out several categories of tools and software that enable remote-working, with a few examples in each category.
| | | |
| --- | --- | --- |
| Remote desktop software Programmes providing access to a work computer, including its files and programmes, through another device (e.g. personal computer, tablet or smartphone). | Team Viewer | Team Viewer is a free remote desktop programme that works for all operating systems, including Windows, Mac OS X, iOS, and Android. Team Viewer provides services such as file transfer, clipboard transfer, and wake-on-LAN. It is also relatively easy to set-up, with no need for port forwarding. Team Viewer also supports two-step authentication for greater security. |
| | Splashtop | Splashtop is a good alternative to TeamViewer, and notably provides low-latency transfer and a screen-sharing feature. The personal version is free, although Splashtop charges a nominal fee for iOS users. The screen-sharing feature in particular allows employees to demonstrate particular actions on the screen, which is useful in more technical-focused industries. |
| | Microsoft Remote Desktop | Microsoft Remote Desktop ("MRD") is a native option available to computers running on the Windows operating system. MRD is free to use, and provides features such as high-quality video and audio streaming, multi-touch support, as well as secured connections to data and applications. |
| Collaborative work tools Programmes that allow employees to simultaneously collaborate on business tasks, with files stored in the cloud for common and instant access. | Office 365 | Office 365 is an integrated set of applications with well-known programmes such as Word, Excel, and Powerpoint. Most Office 365 plans come with desktop versions of Microsoft Office applications, arguably the most common productivity tool used in the business world. Users can also scan files to OneDrive to access documents and data across devices. |
| | Google Suite | Similar to Office 365 but often considered less feature-rich (but with a well-known free version), Google Suite contains options such as Google Docs, Google Sheets and Google Slides that allow users to view and edit documents, spteadsheets and presentations in real-time through a web browser or mobile app. Google Suite also comes with the capability to set user permission levels to designate who can view, comment or edit the document and permissions to download specific documents. |
| Video chat tools Programmes that allow video communications between team members. | Zoom | Zoom is a popular video chat application that facilitates large video meetings along with instant group messaging and its known for its ability to deliver HD video and audio. Notably, it is used by high profile companies such as Pandora, Slack and Uber. The free version supports video call meetings of up to a 100 participants, and is capped at 40 minutes. The Pro version of Zoom costs US$14.99, allows up to 500 participants in a meeting and unlimited meeting time. Zoom also supports screen-sharing. |
| | Skype for Business | Skype is a ubiquitous and well-established internet communication software. If your firm already has Office 365 Premium, Skype for Business would automatically be included. Not only does Skype allow video calls, it also provides instant chat, collaboration tools such as virtual whiteboards, screen-sharing, file-transfer, video-recording and phone/email-integration. Skype also provides communication encryption, to ensure greater security. |
| Real-time communication apps Applications that allow instantaneous communications between employees. | Slack | Slack is a leading application for real-time team communications. While it may take some initial adjustments, Slack allows businesses create teams around departments, projects, and employees. Messages can be sent out to entire teams, or through direct messages or other smaller groups. Slack also integrates with Google Docs and Dropbox, allowing for better file sharing and remote collaboration. A notable example of Slack being used in the business world is the case of IBM, which recently shared about their use of Slack for office communications. |
| | Microsoft Teams | Microsoft Teams, which is part of premium Office 365 subscriptions, is a full service collaboration and communication suite for Windows users. Microsoft Teams allows video and Voice-over-Internet-Protocol calls, direct and group messages, and the sharing of work from other Office apps like PowerPoint, Word and Excel. |
These four classes of software are not the only programmes organisations can use to implement effective remote-working systems. There are also project management and time-tracking software, which help facilitate remote-working. Nevertheless, these three classes of programmes are often seen as the most critical tools for employees to collaborate effectively without being physically next to each other.
Other considerations to ensure a successful transition into permanent telecommuting
Implementing a remote-working mode of work, however, takes more than just technology. As is the case with many situations of technology implementation, having the right mindset and approach towards remote-working is required for the effective implementation of a remote-working culture. This section covers some of the key intangible considerations that an organisation's management should consider implementing to ensure that remote-working works best for your organisation.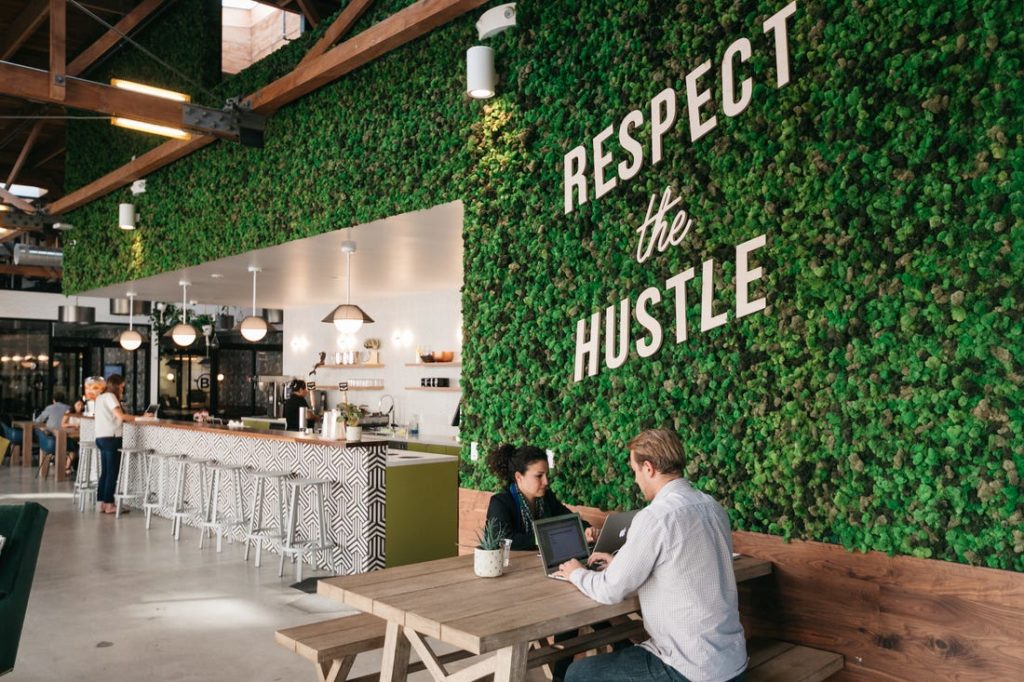 First, focus on goals. Remote-work, by its nature, lends itself to goal-oriented, not activity-oriented management. Team managers should focus less on the time that employees are spending on tasks (or worse, the time spent by an employee "being online"), and focus instead on their deliverables.
Second, ensure open communications and that expectations are clearly defined. The physical distance created by networking means that it can be harder for employees to talk in real-time – and with that, the ability to formally or informally synchronise expectations and build up constructive office dynamics. For effective remote-working, teams should communicate often, and managers should clearly inform employees what is expected of them and how their performance will be measured. In addition, setting deadlines and scheduling check-ins also allows teams to remain on the same page and aligned in their goals.
Third, take steps to build the organisational culture. An essential element to remote-working, as ironic as it might seem, is to instil a company culture in a virtual environment. Just as in real life, team members should be encouraged to interact online in ways that engender community and camaraderie. For instance, celebrating birthdays and team achievements can create opportunities for positive digital interactions. These in turn ensures constructive and regular communication, allowing remote teams to work just as well as (or even better than) their physical counterparts. Aside from online interaction, scheduling occasional in-person meet-ups and retreats can help break the monotony of collaborating virtually, and build a strong organisational or team culture that is sustained even when teammates are physically separated.
Fourth, and specifically in the context of law firms, it is recognised that are many tasks (especially those performed by junior lawyers and/or paralegals) that still need a physical presence in the offence due to the need to deal with physical documents. Examples include the need to print and file bundles of documents, commissioning or notarising documents, and scanning documents. In our view, the key solution to these issues is to plan ahead systematically and find solutions to each of these tasks. For instance, it may be possible to commission documents virtually (see the Singapore Academy of Law's Commissioners for Oaths Manual). Scanning documents can be done through mobile applications, such as Genius Scan. While technology solutions may not be able to replicate professional printing remotely, this may be circumvented by: (a) questioning thoroughly the need for large amounts of printing in the first place when only a few documents are ultimately key in litigation; (b) studying whether these can be referred to electronically (e.g. through a tablet computer); and (c) running a (scaled-down) physical office to deal with printing and other administrative needs.
Conclusion
This article can be summed up in three points. First, remote-working is desirable and arguably prudent in the face of potential disruptions to the business environment. Second, the current state of technology offerings allows remote-working and online collaboration to function just as well as physical collaboration. Third, as with any technological phenomenon, remote-working is not a state of work that can be achieved by simply procuring technology. Instead, given that human workers are still at the core of any remote-working arrangement, steps such as goal-alignment, open communications and culture-building are important for managing the human aspect of remote-work. Should remote-working be implemented successfully for a firm, the firm may then be in a position to consider the creation of a virtual law office. While this is presently out of the scope of this article, more information can be found through the helpful book, "Practicing Law Online – Creating a Virtual Law Office". In the meantime, law firm partners striving to create the foundations of a future-proof law office should also consider referring to the Singapore Academy of Law's Baseline Technology Manual, a compilation of articles explaining technology choices from the perspective of a Singaporean law firm for lawyers to understand baseline legal technology and the attendant considerations.
Featured Image Credit: Zoho