Reading time:
12
minutes
The theme of this year's TechLaw.Fest is 'This is What's Next"'. I thought this is very apt in the realm of law and technology. Both are forward-looking, and multi-faceted that we constantly, even in practice, ask ourselves 'what's next'.

Second Minister for Law and Minister for Community, Culture and Youth Edwin Tong S.C.
Opening Remarks at TechLaw.Fest 2023
Introduction
Since the last edition of TechLaw.Fest in 2022, technology has developed at a rapid pace. It is now trite to say that technology touches every aspect of our lives. It has transformed, and continues to transform, how people work, interact and, play. This is not only embodied in the rise of large language models ("LLMs") and generative AI applications such as ChatGPT, but also questions about the future of cryptocurrency, immersive technologies, and online safety. Amidst rapid technological developments on multiple fronts, it is important to have robust conversations on the workings of these technologies and their impact – positive or negative – on people and society.
As one of Asia's largest law and technology conferences, TechLaw.Fest is an important forum bringing together industry leaders, government, legal professionals, technologists, academics, and civil society to have these robust conversations. As the first fully physical rendition of the event since 2019, TechLaw.Fest 2023 brought together thought leaders from various domains to answer "what's next" in the vast field of law and technology. This article aims to bring a glimpse into the key insights and themes discussed across both days of Singapore's signature law and technology conference.
Key themes of the keynote
Kicking off TechLaw.Fest 2023 was Second Minister for Law and Minister for Community, Culture and Youth Edwin Tong, who delivered the opening keynote address.
In his speech, Minister Tong observed that technology and law are becoming more intertwined and that their interaction would inevitably shape and affect the development of the other. His speech also focused on four main themes, which were further touched on by other panels throughout TechLaw.Fest 2023. These themes were: (1) how technology would impact the practice of law; (2) how technology would impact the development of the law; (3) how lawyers, as stewards of the legal industry, should prepare for this change, and (4) the need to build a safer space online given the impact of technology on social interactions. The paragraphs below summarise Minister Tong's remarks and highlight relevant TechLaw.Fest panels that reflected these themes.
Theme 1: Technology impacting the practice of law
While technology has revolutionised many industries, it can sometimes seem like the legal industry is the final holdout. After all, it is still common to hear anecdotes about lawyers printing bundles of documents whilst preparing for court. The picture, however, appears to be changing for several reasons: changing mindsets, changing client expectations, and increased spending. COVID-19 appears to have been a watershed moment in encouraging lawyers to trust technology and integrate them into legal workstreams. In addition, there is a growing appetite for lawyers to adopt technology to reduce legal costs, with surveys showing that almost 60% of clients expect law firms to do so. Consequently, this has led to law firms increasing spending on technology: in his speech, Minister Tong expects spending by local law firms on technology to triple by 2024.
What are the implications of this change? Several panels at TechLaw.Fest's "Tech Talks" stage tackled the question from several angles.
In the panel on "Generating the future: What generative AI tools mean for the next generation of lawyers", Steve Tan (Partner, Rajah & Tann Singapore; Adjunct Professor of Law, National University of Singapore), Anita Parkash (Director (Pedagogy & Planning), Singapore Judicial College) and Josh Lee Kok Thong (Managing Director (Asia-Pacific), Future of Privacy Forum; Co-Founder, LawTech.Asia) discussed the potential impacts of generative AI on future lawyers. Recognising growing client expectations for lawyers to integrate more technology solutions incorporating generative AI in legal workstreams, the panel observed that this would impact supply and demand in the legal industry and future job prospects. In turn, it is important to shift the training of young lawyers to incorporate more elements of digital literacy over the long run. In the short term, however, the panel noted that law firms may need to be prepared to help young lawyers appreciate the workings and implications of generative AI. This, however, could raise questions about whether small and medium-sized firms would have to resources to do so, and whether such structural discrepancies could widen the gap between these firms and larger and better-resourced firms. In the meantime, the panel also called on young lawyers to embrace "adaptability, resourcefulness and curiosity" to excel in this changing paradigm.
Similar questions were asked in relation to in-house counsels. In the panel on "How generative AI will impact in-house teams", Chee Kin Lam (Managing Director and Head of Group Legal & Compliance, DBS Bank) and Lena Ng (Partner, Clifford Chance) noted that while generative AI systems were good at tasks involving summarising, the present state of the technology fell short in tasks involving extrapolation and logical reasoning. Further, there are risks and side effects of using these technologies, including a lack of explainability, hallucinations, workforce displacement, and intellectual property risks. Nevertheless, Chee Kin and Lena were optimistic about the impact generative AI would have on in-house teams, especially with careful implementation and consideration of risks.
In "Shaping LegalTech for Businesses Today", Mark Tyndall (APAC Head of Consulting and Sales, Neota), Michael Lees (Chief Operating Officer, Rajah & Tann Technologies), Melvin Chee (Client Engagement Lead, Rajah & Tann Technologies) and Justin Lee (Partner, Rajah & Tann Singapore) discussed the impact of legal technology on clients. Given increasingly complicated and complex compliance regimes in various industries, the panel observed that businesses could leverage technology to help in complying with regulatory regimes. For instance, in the realm of data governance, businesses handling large amounts of data could utilise technology solutions to manage data safely and in line with the law. Such solutions demonstrate that besides putting in place appropriate internal policies, technology adoption will play an increasingly important role in regulatory compliance.
Theme 2: Tech impacting the development of the law
Besides impacting legal practice, technology also exerts a profound impact on the development of the law. TechLaw.Fest 2023 featured several "Main Stage" panels, where thought leaders discussed risks, challenges, and legal developments in areas such as AI, online intermediaries, and immersive technologies.
The legal impact of generative AI was one of the issues at the forefront of TechLaw.Fest 2023. In the panel "Legal Implications of Generative AI – It is a tool of the future?", moderator Dr Stanley Lai SC (Head of Intellectual Property Practice, Co-Head of Cybersecurity and Data Protection Practice and Partner of Litigation and Disputes, Allen & Gledhill LLP) invited panellists to discuss the impact of generative AI on IP and copyright law. Comprising Jared Ragland (Senior Director, Policy – APAC, Business Software Alliance), Dr Alan Ragueneau (Europe Managing Director, Nextlaw In-House Solutions, Dentons), Ms Winnie Tam SBS SC JP (Chairman, Hong Kong Bar; Des Voeux Chambers), Steve Tan and Professor David Tan (Co-Director, Centre for Technology, AI and the Law, National University of Singapore), the panel observed that in respect of whether AI works deserve copyright protection, the US Copyright Office had in recent cases refused the registration of copyright for pieces generated by AI. In particular, the US Copyright Office cited that such pieces had too little human intervention to warrant protection. Such decisions left open the question of the degree of human intervention needed for a piece of AI-generated work to be sufficiently original and creative to warrant protection.
As regards the question of whether the use of protected works in training generative AI systems could have resulted in the infringement of copyright, the panel highlighted that different jurisdictions have taken different approaches to dealing with the issue. For instance, panellists contrasted China's approach to exceptions under its fair dealing laws with the US' approach under its fair use exception. With many ongoing cases in courts globally against providers of generative AI services, the panel observed that there may not be a clear approach to this issue. Each jurisdiction may need to find its own balance between artistic protection and technological innovation.
The panel on "Navigating the Complexities of Generative AI: Deepfakes, Malicious Code, and Cybersecurity Challenges" addressed other challenges posed by generative AI. Moderated by Yeong Zee Kin (Chief Executive, Singapore Academy of Law) and comprising Connell O'Neill (Partner and Head of APAC TMT, Gibson, Dunn & Crutcher LLP), Dr Jonathan Pan (Chief Disruption Technologies Officer, HTX), Eric Le Quellenec (Partner, Simmons and Simmons LLP), Jill Schornack (Vice President, Product, NetDocuments) and Angela Xu (Senior Privacy Counsel for APAC, Google), the panel gave key insights into the considerations, concerns and opportunities behind generative AI. The panel observed that generative AI had several promising use cases, such as providing machine translation or translating real-world challenges into machine-readable code. At the same time, generative AI also gave rise to challenges such as misinformation, disinformation, and various cybersecurity challenges. Panellists recognised that legislative, regulatory, and industry self-regulation mechanisms were crucial in solving these fast-evolving challenges, providing victims with appropriate recourse and fostering societal trust in AI systems.
Besides generative AI, immersive technologies – epitomised by the vision of the "metaverse" – also continue to pose legal questions and challenges as well. These were discussed in "Developing and Deploying Immersive Technologies and the Metaverse: Current Policy & Legal Issues for Practitioners and Anticipating Future Challenges and Solutions" moderated by Clara Koh (Head of Public Policy, Singapore, Malaysia and ASEAN, Meta). Comprising Marcus Bartley Johns (Regional Director, Government Affairs and Public Policy, Asia, Microsoft), Josh Lee Kok Thong, Benjamin Sern Wee Ming (Avium Founding Member; Partner, G5M), and Alex Toh (Principal, Baker Mckenzie Wong & Leow), the panel emphasised that the metaverse is not one comprehensive digital space, but multiple different spaces on different platforms. This meant that despite shared questions such as IP and data protection, "context" (i.e. such as differences in use cases, platforms, and applications) was key in understanding and identifying solutions to these legal challenges. The panel also found consensus around an "integrated development" model of immersive technology regulation, where context-specific regulations were designed atop as base layer of general regulations such as contract, tort, criminal law, data protection law, and other sector-agnostic regulations.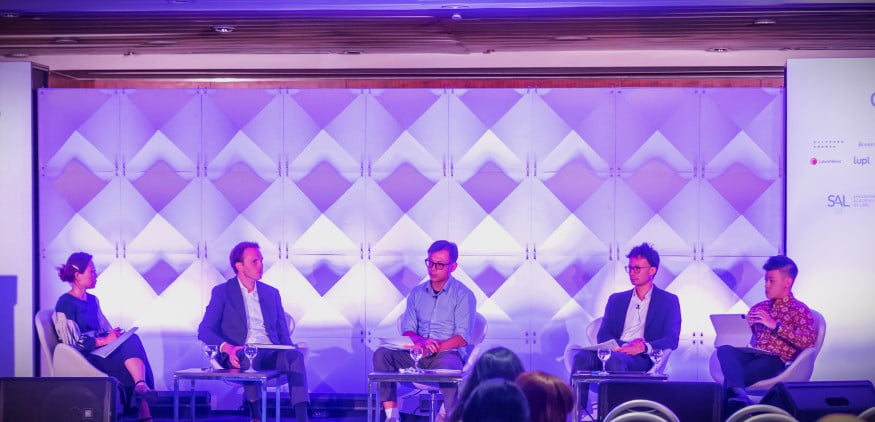 Theme 3: Building a safer space online
TechLaw.Fest 2023 also paid special attention to the rise of online harms and building a safer online space. In his opening address, Minister Edwin Tong pointed out the key role technology has played in an integrated society, with the internet penetration rate in Singapore at over 170% of the population. While this unprecedented level of connectedness has enabled the rise of the digital economy and digital society, it has also brought with it the rise of online harms. In particular, the rise of deepfakes and the circulation of non-consensual pornography has increased dangers for youths, females, and disadvantaged groups. Minister Tong observed that with studies showing that 67% of youths have experienced some form of online harm, it is imperative that society addresses this "digital safety gap".
At the Main Stage, these issues were discussed in the panel on "Building a Safer Space Online: Challenges and Solutions", comprising moderator Gwenda Fong (Deputy Secretary (Development and Regulation), Ministry of Communications and Information, Singapore), Timothy Ma (Head of International Privacy and Data Protection Department, Tencent), Simran Toor (CEO, SG Her Empowerment), Professor Sun Sun Lim (Vice President, Partnerships and Engagement, Singapore Management University) and Vanessa Yeo (Cluster Director (Strategic Policy & Operations), Infocomm Media Development Authority of Singapore). The panel called for a robust regulatory framework, as well as measures to empower individuals in taking action against online harms. In particular, the regulatory framework should take an "accretive" approach that evolves in tandem with technology, while being outcome-driven so that the law remains flexible to deal with various outcomes. Panellists also noted the importance of partnerships between government, industry, community, and the public to co-create solutions to online safety challenges.
In this area, technology could also be a tool to facilitate regulatory outcomes online. At the Tech Talks stage, the panel on "Introducing k-ID: A Revolutionary Technology for Empowering Kids and Teens Online" saw Kieran Donovan (Co-Founder and CEO, k-ID) and Jeff Wu ((former) Head of Trust & Safety, APAC, Meta) share about the potential for content moderating technology to build a safer online experience for children and teenagers. In particular, technology solutions could assist companies in complying with disclosure mandates globally, while providing parents with oversight over their children's online gaming experiences.
Besides online safety, TechLaw.Fest 2023 also saw deep dialogue around the regulation of online intermediaries. Spearheading the discussion was Professor Ian Walden (Professor of Information and Communications Law, Centre for Commercial Law Studies, Queen Mary University of London), who delivered a keynote address titled "Global Developments in the Regulation of Online Intermediaries" on the second day. Professor Walden's magisterial lecture included a chronological landscape scan of regulations covering online platforms (such as the US' Section 230 of the Communications Decency Act, the UK's Online Safety Act, and the EU's Digital Services Act) and how these regulations (and their application) have evolved over time, highlighting a common global ambition to protect fundamental rights and privacy while attempting to safeguard the public interest and vulnerable citizens.
The impacts of these developments were immediately expanded upon in the ensuing panel "Impact of Global Developments in the Regulation of Online Intermediaries in Asia", featuring a multinational panel across Asia. Moderated by Yeong Zee Kin and comprising Nehaa Chaudhari (Partner, Ikigai Law), Gladys Chun (General Counsel, Lazada), Professor Yanqing Hong (Professor of Law, Beijing Institute of Technology), Takeshige Sugimoto (Managing Director and Partner, S&K Brussels LPC; Senior Fellow, Future of Privacy Forum) and Professor Ian Walden. With the panellists hailing from different jurisdictions, they shared insights on the different approaches that their jurisdictions were taking in response to the evolving technological and regulatory landscape. Some jurisdictions had chosen to align themselves with Western regulations by emulating the EU's Digital Market Act and Digital Services Act in its legislation, while others had elected to create new approaches to protect citizens and businesses. Regardless, the underlying question across jurisdictions was about protecting important values, rights and norms and safeguarding individuals from harm, whilst maintaining innovation and competitiveness.
Theme 4: Looking forward and preparing for change
TechLaw.Fest 2023 closed with the final panel, "Navigating Tomorrow: Insights on the Future of Digital Governance, AI Regulations, and Legal Practice". Comprising key leaders at the forefront of law, regulation, and technology, the speakers – Denise Wong (Deputy Commissioner, Personal Data Protection Commission of Singapore), Justice Aedit Abdullah (Judge, High Court of Singapore), Professor Simon Chesterman (Dean, National University of Singapore) and Professor Ian Walden – shared their perspectives on the future of technology regulation and the impact on society and the legal profession.
Professor Walden highlighted 5 main concerns to be addressed in the future. First, digital sovereignty and the increasing concerns of protecting sovereignty in a globalised digital world. Second, network regulation and the need for revamping regulation to preserve net neutrality. Third, regulating in the public interest, including managing platform liability, online safety, digital security, and law enforcement. Fourth, data regulation and addressing issues such as data portability and answering questions about who owns and controls data. Fifth, the question of how to regulate, and deal with the increasing complexities in compliance requirements alongside the shifting cost of compliance.
Professor Chesterman focused on the future of AI regulation. He highlighted different global approaches to AI regulation. He also emphasised the importance of considering who the onus of regulation should be on. He also shared several possible regulatory futures, namely: a techno-utopia (where AI augments humanity and leads to an increase in overall efficiency), a zero-trust environment (where society wholly distrusts AI), and a "robot takeover" where AI replaces jobs and affects livelihoods.
Closing the panel was Abdullah J, who proffered his views on the impact of technology on the legal industry. Abdullah J expressed optimism about the potential for technology to increase access to justice. He also outlined a potential future where judges need not be full-fledged legal professionals. He also stressed that the role of lawyers – especially junior lawyers and trainees – would need to evolve alongside the development of technology.
Conclusion
Once more, TechLaw.Fest 2023 provided deep insights on critical issues at the intersection of law and technology. While few of the issues discussed lend themselves to straightforward answers, the nature of multi-faceted and multi-stakeholder discussions at the event showcased the best that TechLaw.Fest offers annual for the region's legal industry.
Notwithstanding the breadth of the conference that this summary has attempted to cover, the highlights above represent a mere fraction of all the action that happened at TechLaw.Fest. From the technology vendor exhibitions, to the prize-presentation ceremonies of the ALITA Awards 2023, the constant flow of speakers at the Tech Talks Stage, rousing book launches, and the constant hubbub as people took full advantage of the first fully in-person version of TechLaw.Fest since 2019, it would be futile to even attempt to capture all the verve and energy on display in writing. Perhaps that is just as well. If you, the reader, feel curious about visiting next year's TechLaw.Fest from reading this, this article would have in no small part achieved its aim.