Reading time:
5
minutes
ALITA marks first anniversary
The Asia-Pacific Legal Innovation and Technology Association (ALITA) has marked its first anniversary with a slew of initiatives to further promote the development and implementation of legal tech in the region. These initiatives were announced at the final day of TechLaw.Fest 2020 and include:
State of Legal Innovation in Asia-Pacific (SOLIA) Report 2020: The SOLIA Report was first published in 2019 at Stanford University's Future Law Conference, and then at TechLaw.Fest 2019. Building on these successes, the SOLIA 2020 Report contains several substantive improvements. These include covering new jurisdictions like Brazil, Indonesia and New Zealand, featuring updates from four regional law firms (Clifford Chance, Linklaters, Rajah & Tann and White & Case), and covering the impact that COVID-19 has brought to this sector. Much like a kaleidoscope, the SOLIA 2020 Report was made possible by contributors across APAC, and published in conjunction with the Singapore Management University School of Law, whose academic expertise was instrumental in putting the Report together. The Report may be accessed at https://bit.ly/solia2020.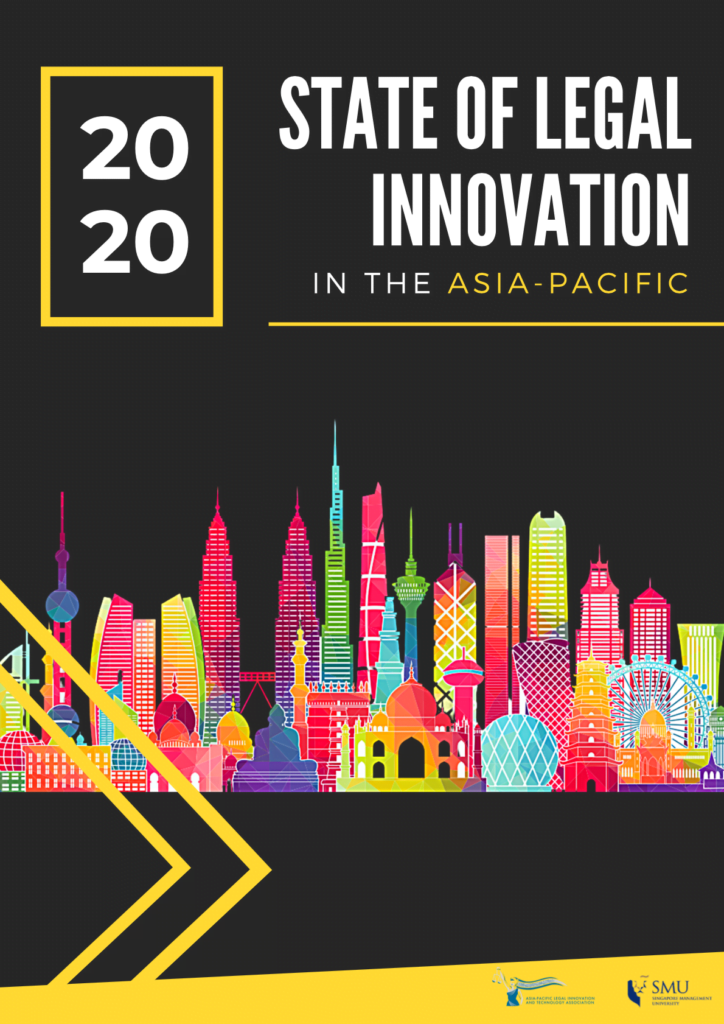 Legal Innovation Strategy Toolkit and Legal Technology White Paper: Launched on the basis that legal innovation flourishes best with a whole-of-jurisdiction approach, the Legal Innovation Strategy Toolkit is a first-of-its-kind document that seeks to advance legal innovation regionally by providing guidance on creating a coordinated jurisdictional-level legal innovation strategy. It is accompanied by a Legal Technology White Paper that, with ALITA's regional perspective, provides an overview of adopting legal innovation through a coordinated effort with the aid of practical and illustrative examples to mobilise action. Both the White Paper and Toolkit are intended to be guiding documents. They do not instruct; rather, they share ideas in the hopes that these are useful and instructive. They are also "living" documents, which will be evolved in line with technological, industry and societal developments. The Toolkit may be accessed at https://bit.ly/alitatoolkit.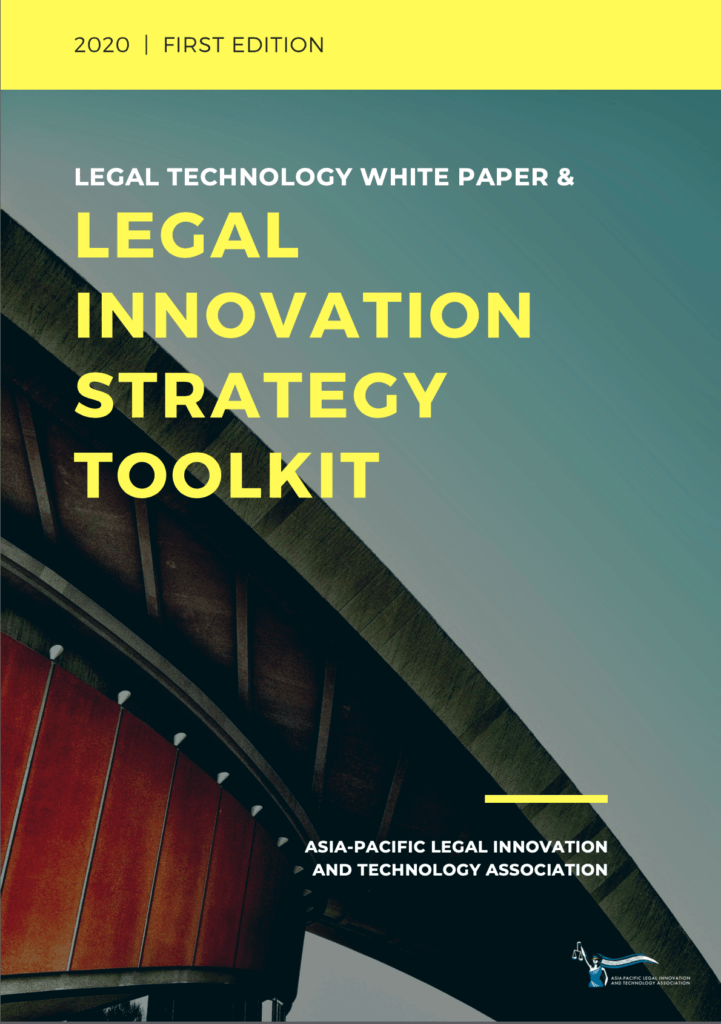 ALITA Legal Tech Observatory: ALITA's Legal Tech Observatory is the world's first regulatory observatory for legal technology. Modelled after the OECD AI Observatory and the EU Blockchain Observatory, the ALITA Legal Tech Observatory provides a real-time database of legal tech players and initiatives in the Asia-Pacific. It will be a hub for actionable insights for jurisdictions and industries, with input from a broad spectrum of legal tech actors. At the heart of the Observatory will be an extensive directory of players in the APAC legal tech ecosystem. It will give viewers a clear picture of the vibrancy of the legal tech ecosystem in the APAC region. It also seeks to complement the SOLIA Report 2020 by allowing viewers to draw actionable insights through data dissected by jurisdiction, market research, technology and other categories. It will also house ALITA's other initiatives, like the SOLIA Reports series and the Legal Innovation Strategy Toolkit. The Observatory may be accessed at https://observatory.alita.legal.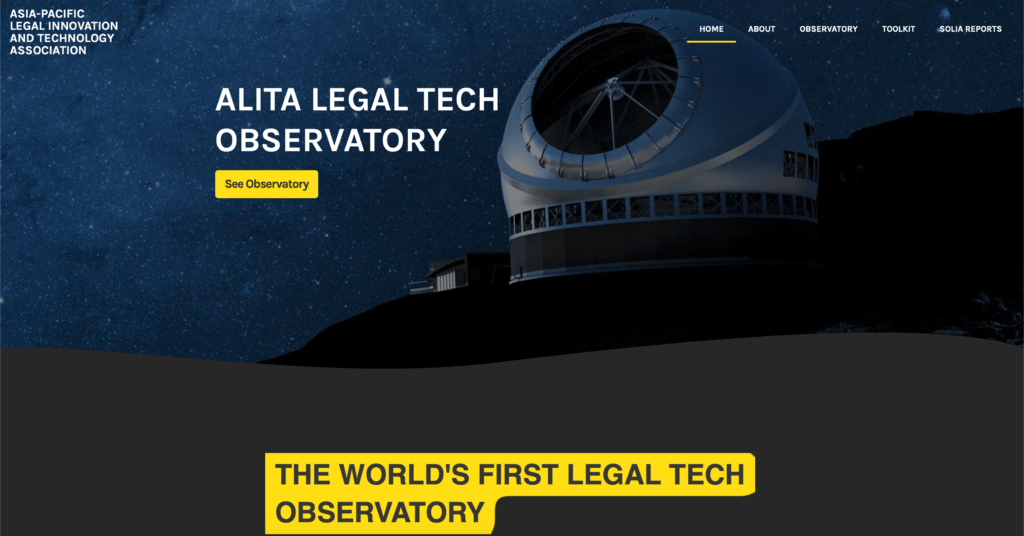 APAC's Aspirations for Legal Innovation and Technology: Closing off TechLaw.Fest 2020 will be an APAC-wide open ideation project to determine and unite common aspirations and hopes for legal innovation and technology for the region. Tapping on ALITA's convening power to encourage coordination and cooperation in legal innovation, the session will give participants a say in identifying the region's aspirations, concerns and imperatives for legal innovation and technology, based on statement submissions from TechLaw.Fest attendees over the 5 days of TechLaw.Fest. These aspirations will go on to inform and guide ALITA's continuing work for the region.
Capping off an eventful year
The launch of these initiatives caps off an eventual year for ALITA, notes the chairperson of its Steering Committee, Mr Josh Lee Kok Thong. He said:
"Notwithstanding global disruptions, we have continued to support our members and stakeholders in the region, and topped it off by launching three signature initiatives. This is a testament to the power of regional collaboration, and a reflection of the continuously strengthening case for legal innovation.

Nevertheless, as a one-year old organisation, there remains much more that ALITA can and will do. As this is a space for collaboration, not competition, we look forward to building closer bridges and partnerships with our member organisations and regional partners to further legal innovation and opportunities for the region."
About ALITA
The Asia-Pacific Legal Innovation and Technology Association (ALITA) is a pan-regional platform promoting the development and implementation of legal technology and innovation throughout the region. Incorporated in Singapore, ALITA has come into its own in the span of just one year, growing to a 160-member body strong organisation covering over 20 jurisdictions. These organisations include top global law firms White & Case, Clifford Chance, Dentons Rodyk, Rajah & Tann and Cyril Amarchand Mangaldas, as well as multinational companies like Lazada and LexisNexis, as well as a host of legal technology players in the region. It is led by a group of regional changemakers and advised by a Board of top international thought leaders (see Annex).
With a focus on establishing its foundations, ALITA has also built-up its capabilities and repertoire of initiatives to help the region embrace and further legal innovation in a spirit of collaboration. Notwithstanding a disruptive year characterised by COVID-19, It has formed the ALITA Secretariat, an executive body comprising future legal tech eagles from law schools in Singapore, and built bridges with regional partners Rajah & Tann and Regit. It launched an in-house livestreaming capability for legal innovation content, called ALITALivestream – which was then used to livestream a Virtual Summit on legal tech in COVID-19 organised in collaboration with the Financial Times x Global Legal Hackathon event. It was also instrumental in the development of the Global Legal Tech Report (Asia) by Alpha Creates.
Membership for ALITA is open to all organisational stakeholders in the legal innovation and technology sector in APAC. Details for membership can be found on ALITA's website at https://alita.legal.
Annex: Board of Advisors and Steering Committee Members of ALITA
Board of Advisors
Justice Lee Seiu Kin, Supreme Court Judge of Singapore [Chairperson]
Andrew Arruda, Co-Founder, ROSS Intelligence
Ahmad Fikri Assegaf, Senior Partner and Co-Founder, Assegaf Hamzah & Partners
Professor Goh Yihan, Dean, Singapore Management University School of Law
Komal Gupta, Head of AI & Innovation, Cyril Amarchand Mangaldas
Dr Mimi Zou, Co-Founder, Oxford University Deep Tech Dispute Resolution Lab
Paul Neo, Chief Operating Officer, Singapore Academy of Law
Terri Mottershead, Director, Centre for Legal Innovation
Steering Committee
Josh Lee Kok Thong, Co-Founder, LawTech.Asia [Chair]
Lee Ji En, Chapter Organiser, Legal Hackers Singapore; Member, Oxford Deep Tech Dispute Resolution Lab [Deputy Chair]
Adeline Chin, Founder & CEO, Cyrus Creative Solutions
Aidan Goh, Singapore Management University School of Law
Andrew Wong, Product and Project Manager, Dentons Rodyk
Anton Pronin, Director for Legal Technology, Skolkovo Foundation
Brian Tang, Founding Executive Director, LITE Lab@HKU; Managing Director, ACMI; Chapter Organiser, Legal Hackers Hong Kong
Jennifer Lim Wei Zhen, Co-Founder, LawTech.Asia; Associate, Shook Lin & Bok
Kanan Dhru, Justice Innovation Researcher, Hague Institute for Innovation of Law
Narae Lee, Representative and Lawyer, Bliss Law Offices
Maurice L. Rabb, Senior Manager, Recruitment, Baker McKenzie
Tony Lai, Creative Consultant, DSIL Global
Wan Ding Yao, Co-Founder, LawTech.Asia; Singapore Management University School of Law
Featured Image Credit: Asia Pacific Cities Summit