Reading time:
9
minutes
By Lenon Ong, Sanjana Ayagari, Elizaveta Shesterneva | Edited by Josh Lee
As part of our strategic media partnership with the Singapore Academy of Law, LawTech.Asia once again has the privilege of being appointed as media partner for TechLaw.Fest 2020. As the programme line-up for TechLaw.Fest 2020 begins to take shape, LawTech.Asia brings our readers back to TechLaw.Fest 2019 to provide a timely recap on all that happened, as we look forward to what is shaping up to be a momentous and memorable TechLaw.Fest 2020.
In its second year in this form as a large-scale conference, TechLaw.Fest 2019 was held on 5 and 6 September 2019, and saw over 1,500 legal professionals, technologists, entrepreneurs and regulators converge to engage in critical conversations about the future of technology law and of the legal industry.
Given the numerous conferences, exhibitions, pitches, launches and meetings all happening over 48 hours of adrenaline and excitement, this article aims to share some of the key themes and memorable moments that emerged across both days of Singapore's (and arguably Asia's) signature law and technology conference.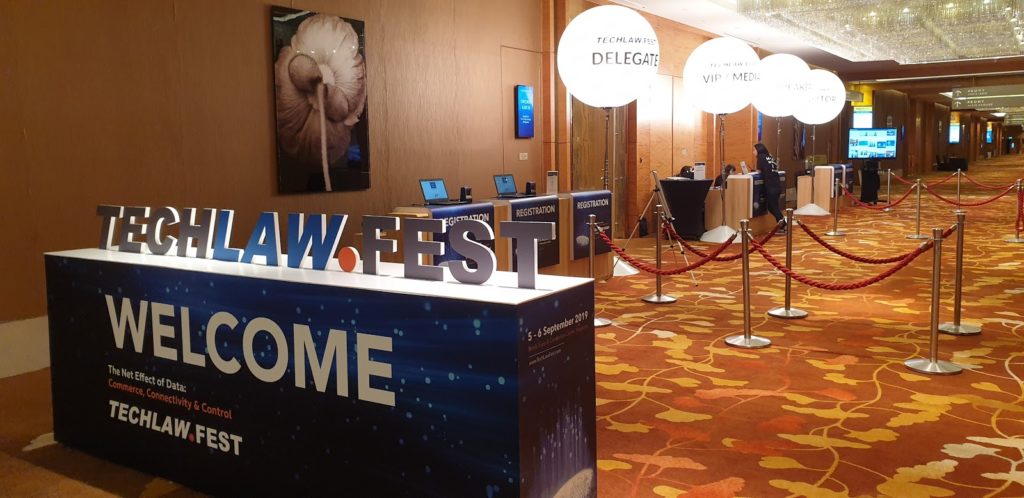 Commerce, Connectivity and Control
In 2018, TechLaw.Fest carried the slogan, "Meeting Where It Matters". While the theme for TechLaw.Fest 2019 was a more technologically-focused "The Net Effect of Data: Commerce, Connectivity and Control", it was clear that the former phrase had been infused into the conference's DNA. Participants at TechLaw.Fest 2019 would have rubbed shoulders and gained insights from such notable speakers as Sir Tim Berners-Lee (globally known as the inventor of the World Wide Web), and top-level representatives the Supreme Court of Singapore, the Infocomm Media Development Authority, DXC Technologies, Microsoft, and numerous other top-tier companies and institutions in the technology sector.
In line with its overall theme, TechLaw.Fest 2019 saw thematic panels on: (a) data and commerce; (b) data and the legal ecosystem; (c) data and security; and (d) data and connectivity. In the afternoons, deep-dive seminars were also held on artificial intelligence ("AI") governance, regional legal technology, smart contracts, and Smart Nation-related legal issues. The collective message from these panels and sessions was clear. In TL:DR fashion: (a) it is undeniable that the legal industry is set to be fundamentally disrupted by technology; and (b) the legal profession will nevertheless play a fundamental role in shaping laws and policies for technologies while having to equip itself with the necessary tools and knowledge for a data and technology driven age.
The law of technology
Legal issues of the future: Data, explainability, liability
Setting the tone for the "hallmark conference for law and technology in the region" was Singapore's Minister for Law K Shanmugam S.C. In his opening speech, Minister Shanmugam observed that the increasing prevalence of emerging technologies meant that there was a crucial need for the legal profession to harness technology in their daily operations. The Minister also noted that the future of law and technology would become increasingly complex, with cross-border conversations on law and technology growing in importance as we head towards international standardisation of approaches to new technologies. The legal industry would also face significant challenges such as the disruption to existing business models, and the availability of digital infrastructure and talent.
In an extensive and enticing keynote, Sir Tim Berners-Lee then espounded the need and challenges for facilitating data connectivity and transfers between individuals and organisations around the world. Sir Tim noted that there was still further potential for billions of people to be empowered through the Web. However, the monetisation of the Web bringing about concerns of data losses, privacy leaks and fake news meant that the journey ahead would be far from straightforward. For instance, developments in the open data movement and in regulating technology globally have been sluggish. Nevertheless, Sir Tim brought a message of hope: by combining proper regulation with firm technological foundations (such as the Solid project that his World Wide Web Foundation has been developing), the principled and regulated use of data remained an attainable dream.
Technology and policy will always have to be developed together. If you develop one without the other, there will be a lot of trouble.

Sir tim berners-lee, opening keynote, techlaw.fest 2019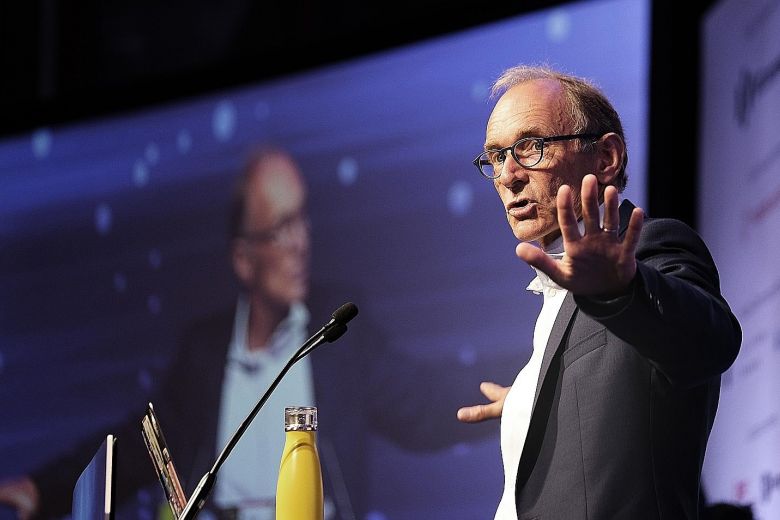 Transparency, explainability, and interpretability of AI systems
In the firehose seminar on "Frontier Issues in Law and Technology", Professor Daniel Seng (National University of Singapore Faculty of Law) opined that many answers to questions on the regulation of AI could be found by analysing the case of Uber in the fatal Arizona self-driving car crash in 2018. In this regard, a key question is whether the technology should be used in the first place. Fundamentally, when designing a technology solution to a problem, there is a need to balance fairness, accountability, and transparency of the solution. Tan Ken Hwee (Chief Transformation and Innovation Officer of the Supreme Court of Singapore) noted that neural networks could pose difficulties for technology firms to be sufficiently clear in explaining how such technologies process data. He also noted that ongoing research into "explainable AI" reveals transparency and interpretability as key aspects to properly understand the workings of AI — aspects that policymakers can consider in legislation to provide better certainty.
To that end, Arianne Jimenez (Privacy and Public Policy Manager of Facebook) said that organisations have developed tools that can check algorithms for types of biases to boost transparency and explainability in AI. In addition, Jeffrey Lee (Regional Head of Legal & Compliance, Data, Intellectual. Property, Technology & Operations, Support Units of the Development Bank of Singapore) drew upon the concept of equivalence to propose that the validation of AI models would be easier if humans ultimately remained accountable for every process and procedure of AI systems.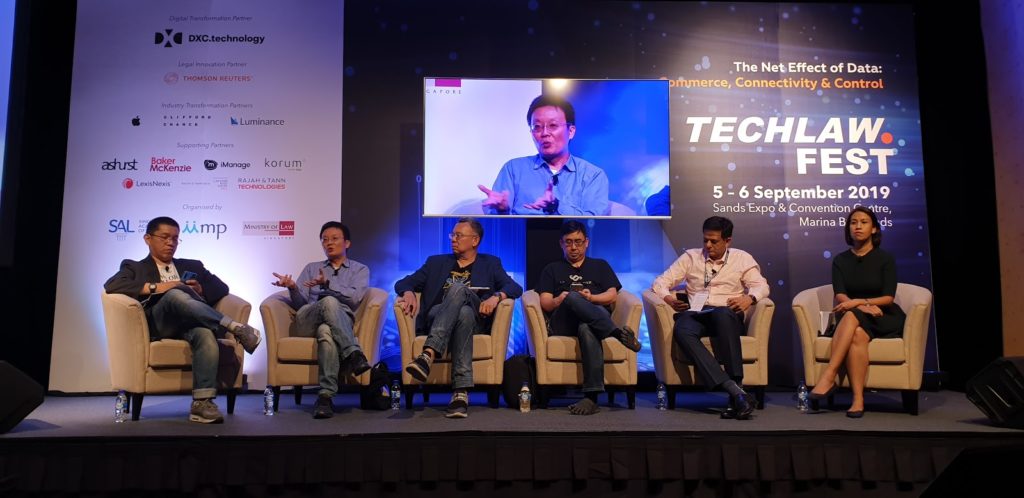 Data and privacy
We live in a reality where AI systems are built into day-to-day activities. Since the purposes for the use of AI can vary, regulations should accommodate this varying factor. The final goal of regulators is to balance the interests of both users and developers of AI, encourage innovation, and interfere only when necessary. One example is Singapore's plan to incorporate the requirement of data portability in its privacy regulation.
From a regulatory point of view, Yeong Zee Kin (Deputy Commissioner at the Personal Data Protection Commission) emphasised the importance of determining whether hard law is necessary, or whether such issues could be framed with soft laws and voluntary internal regulations. The issues still not covered by existing regulations include bias, control, and transparency in relation to the use of AI.
A view also shared was that one could expect to see increasing regulations in relation to cybersecurity matters, and in relation to emerging technologies, regulators need to consider whether gaps indeed exist in current regulations.
Adam Burden (Chief Software Engineer at Accenture) shared that in modern software engineering and information technology, the principle of privacy by design is quintessential – this principle has to be applied even in the initial stages of designing algorithms and computer architectures, and cannot be used as a stop-gap whenever data breaches occur.
Another view shared was that robust internal governance within organisations was also essential, with discussions about privacy required at the management level. The risk and compliance culture should permeate the organisation, and not delegated to only certain groups of people in the organisation. Clear lines of communication should be present within the organisation to encourage the reporting of potential data breaches.
The technology of law
The legal industry has no choice but to evolve in response to disruptions in technology and business models. The big questions, especially for legal service providers, are what needs to be done for such an evolution to be successful and how to do it.
The forum on the "Innovation Journey Case Studies for Law Firms" attempted to answer this through snapshots of the journeys the participating law firms have undertaken. The experiences from firms and companies like Ashurst, Clifford Chance, Cyril Amarchand Mangaldas, Dentons Rodyk and Luminance provided valuable insight into the ingredients necessary to keep pace with legal tech disruptions.
The panellists agreed that legal innovation is not merely about introducing technology but about driving a culture of innovation and getting both lawyers and clients involved. The focus, said Mr Bas Boris Visser (Global Head of Innovation and Business Change, Clifford Chance), is on creating an environment where people are given opportunities and the motivation to innovate.
Initiatives such as "Vichar" by Cyril Amarchand Mangaldas and "CC Create" by Clifford Chance can empower individuals to be involved in the innovation journey. Ms Komal Gupta (Head of Innovation and Artificial Intelligence, Cyril Amarchand Mangaldas) highlighted the success of "Vichar", an in-house innovation lab, which generated an impressive 161 ideas, of which the top 7 were implemented by the firm. Ms Rocio Perez (Innovation & KM Solutions Manager, Dentons Rodyk) emphasised the need to establish this culture through a strong governance model that structures innovation in a way that is conducive to the firm's success.
Every voyage needs a captain and understanding who should champion innovation in legal service providers is the first step in the journey. It was clear from the discussion that this cannot be a one-man operation and a series of leaders are necessary to stay on track. However, investment from the senior most members of legal organisations seem to be crucial.
Most panellists suggested that key individuals such as the Chief Operations Officers or Managing Partners galvanise the entire firm, keeping people motivated and coordinated across departments. Interestingly, a rather distinct view was also presented by Mr Tae Royle (Head of Legal Technology, Ashurst). He suggested that changing mindsets is not at all difficult, as long as one manages to convince clients of the need for innovation. Once clients are convinced of the value, they will automatically convince the lawyers.
Measuring success is highly important to ensure the right technology is being invested in and that the correct path is being followed. Sustainability is an essential metric but calculating it is a challenge. One way of achieving this is to look beyond merely improving delivery speeds or engagement rates of legal services, to fundamentally changing the manner of legal service provision. If such change is significant and capable of documentation through subsequent metrics, then it can be said to be genuinely sustainable.
One metric as suggested by Mr Royle, was quantitative, hard data assessing the Value of Legal Time Saved (VOLTS). Another was using qualitative data based on the response from lawyers. Factors such as how enjoyable they found the innovation and if they would recommend it to others are useful.
Ultimately, finding the perfect path to innovate on is an experimental process and can only be reached via trial and error. It is also necessary to be brutally honest with oneself about what does not work. Regardless of the metric, the focus must be finding a better way to conduct the business of law. Hence, prioritising client impact is the only way to achieve true sustainability.
Success from the perspective of innovation is to give people the tools to change without being traumatised by it, such that they are willing to do it again.
Observations at the frontier of law and technology
With so many notable and exciting moments at TechLaw.Fest 2019, it may well be impossible to provide a truly satisfactory summary within these pages alone. Indeed, TechLaw.Fest 2019 saw numerous other notable events, such as the launch of the Asia-Pacific Legal Innovation and Technology Association (ALITA), the launch of the State of Legal Innovation in the Asia Pacific Report 2019, the events stage featuring young minds in the legal tech industry, the exhibitions, and many others. As with all events that deal with the state-of-the-art in thought, technology and intelligence, frontiers defy description. One has to be there in person to see and feel what the future can, and should, bring.
Nevertheless, regardless of moment, TechLaw.Fest 2019 excelled in delivering a clear clarion call: that the key part of the digital transformation required shifting mindsets, driving innovation, and re-examining the business models of our legal industry. TechLaw.Fest 2019 continues to be a beacon for the leading minds of the law and technology in Singapore, Asia, and the world. It is with bated breath that this team looks forward to more innovations, intelligence and insights at TechLaw.Fest 2020.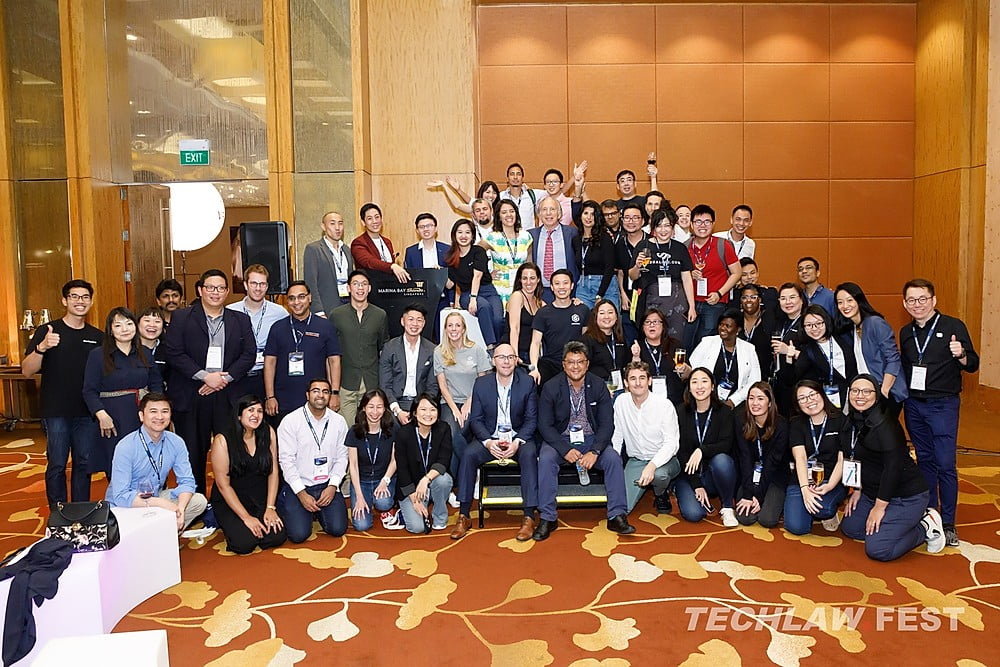 ---
This coverage was produced by LawTech.Asia as part of our media partnership with the Singapore Academy of Law for TechLaw.Fest.
Featured Photo Credit: TechLaw.Fest